Have you just come up with a great product idea? Do you own a business and have lots of inventory that you could easily sell online? Placing products for sale on the internet can become a very lucrative business venture, but first you need to learn how to get started. While the process of selling products online has been greatly simplified, it still remains a little overwhelming for newcomers.
The 21st century has granted us with the amazing ability to reach millions of people worldwide within minutes. Setting up an online store doesn't mean you will succeed, but if you follow all of the proper steps, put in the necessary efforts and keep at it, you can definitely make a great income. In fact, many people who work hard at building their eCommerce platform actually end up leaving their day job within months.
Whether you're tired of your day job and want to start building a better future or even if you're just starting out in adulthood and want to choose a career that provides a great amount of freedom - Shopify stores are a great way to achieve what you seek. We're going to cover the basics of setting up a Shopify store online so you can get the first step out of the way - building your website so you can begin selling products online.
What is Shopify?
Shopify is a simple to use website builder that specializes in the creation of online stores. They provide you with a simple to use dashboard, which makes it a breeze for you to add new products, upload images, track inventory, include promo codes and so much more. As an all-in-one eCommerce solution, everything that allows you to run a successful online business is available at your fingertips when running Shopify.
Shopify is very beginner-friendly, which is why we've chosen it as a great way to get started with selling products online. Whether you've built hundreds of websites or even if you've never seen a line of code in your life, Shopify makes everything simple. You won't need to learn how to code because everything is visually modified - similar to building a PowerPoint presentation.
Shopify also allows you to include all sorts of third-party applications so you can get the most out of your online store. From customer support channels to email marketing tools, there isn't much that Shopify can't handle. So if you're ready to launch your online business and if you're ready to become your own boss, learn how to get started below. We will guide you through every step of the process, from signing up for a Shopify account all the way to customizing the storefront.
Starting a Shopify Store: The Ultimate Beginner-Friendly Guide
Knowing how to proceed with your first steps is crucial. Many new online merchants get so caught up with the moment that they end up rushing these first steps. The simple truth is, if you don't start your online store properly, you'll never have a great foundation to sell products online. Follow our steps below to know how to easily set up your first online store within minutes - the right way!
Step 1: Sign Up for Shopify (2 - 5 Minutes)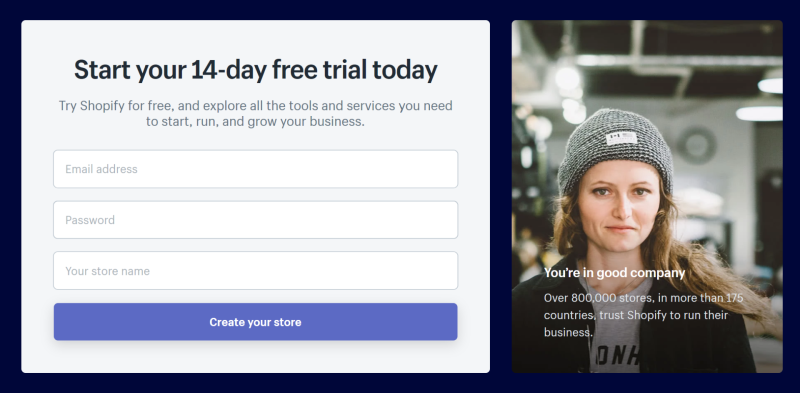 Signing up for a Shopify account is the first step towards building your online empire. The process is incredibly simple - just enter your name, email address, pick a password and choose a store name. From there, Shopify will ask you a few basic questions such as your current store revenue, whether or not you're already selling products offline and other such details to better understand your needs. You will also need to provide a physical address so you can receive payments. The entire process of signing up for your online store is intuitive and shouldn't take more than 5 minutes of your time. It's basically very similar to any other sign up form online.
Step 2: Add Your First Product (3 - 10 Minutes)
Once you've successfully signed up for Shopify, you'll immediately be brought to your dashboard area. This is a clean and simple screen that allows you to manage all aspects of your business. If you've ever worked on WordPress before, you'll find the dashboard to be rather similar in appearance. Upon arriving on the dashboard for the first time, Shopify will encourage you to add your first product. If you don't yet know what you will be selling, don't worry - you can either skip this process or enter fake information for a demo product. It's actually a good idea to enter a demo product so you can see what the process is like and to see what products look like in your store. Adding a product is simple, very straightforward and only takes 5 to 10 minutes to complete. It can even be much faster as you get used to it.
Step 3: Add a Collection / Category (1 - 2 Minutes)
After adding your first product or demo product, you'll probably want to look into adding a few collections. Collections at Shopify are basically categories. It's a good idea to add a few collections if you have many products in order to enhance your website's navigation so users can more easily find what they're looking for. An example of collections would be t-shirts, pants, shoes for a clothing store or TVs, Computers, Accessories, for an electronics store. Not only do collections make it easier for users to navigate the online store, but it's also vital for SEO purposes. Proper navigation is great for search engine optimization, which allows you to get more organic traffic from search engines like Google.
Step 4: Add a Navigation (2 - 3 Minutes)
After adding a few collections to your online store, it's a good idea to create a navigation menu. This is the menu you often find at the top of websites. This menu will allow your users to easily browse your website's categories and find your various products. The more products you have, the more it becomes important for your website to have excellent navigation. You can easily create a navigation menu within 2 to 3 minutes, allowing you to make your website much easier to use without much effort.
You can place many different links within your navigation menu other than your collections. For instance, you can also choose to add the link to your About Us page, your Contact page and many other important resources found within your website. The navigation menu is also an important aspect of SEO, so it's crucial that you build a proper menu.
Step 5: Customize Your Storefront (15 Minutes - 1 Hour)
Next up is what I consider to be the most fun. This is when you get to customize the appearance of your online store. Start by picking a theme - there are many free themes available, or you could opt for a premium theme that costs money. You should probably start off with a free theme until you get a good grasp of Shopify and how themes work. Once the theme has been installed, you'll be able to see your menu, collections and product pages that created in previous steps.
This is where is starts getting fun - you get to actually see your creations. Once theme has been installed, you can customize the appearance of your storefront to your liking. Optimize the font size, font color, link colors, background images and so on. This can take a few minutes or it can take several hours depending on the amount of customizations that you wish to perform. If you just want to move on to the next step as quickly as possible, use the basic settings. You can always return and optimize these options at a later time.
Step 6: Preview Your Store (1 - 5 Minutes)
Once you feel confident with your customizations, it's a good idea to preview your creation. Go ahead and preview your store - even if you're store isn't live, you will get to see it. This is where you should look for missing things that you need to add. For instance, if you wish to add more products, you can go back to step 2 and just add as many products as you like. You can also edit any products that you previously added if they don't quite look as you wish. If you need extra categories/collections, simply go back to step 3 and add as many as you need. The same applies for links in the navigation bar - simply go back to step 4 in order to add as many as you need. Keep in mind that adding too many links in the navigation bar could end up looking weird, especially on smaller devices such as mobile phones and tablets.
Step 7: Turn Off Password Protection (1 - 2 Minutes)
When you first launch your online store, it will be password protected. This means that only you can view your online store until you are satisfied with the appearance of it. If you've gone through the store preview and you feel confident about putting it online for the world to see, this is where you'll want to be. Removing the password protection will take your website online without the need for a password in order to access it. Upon removing the password, your site will be live, but nobody will know about its existence.
This is where it becomes a great idea to share your store on social media, appropriate forum boards and other social platforms online. Getting the word out about your store once you've made it live and you like the way it looks is a great way to gather some initial traffic. It can take months before your online store ranks in Google, so you'll want to rely on this social traffic for the first few weeks/months.
Step 8: Register a Domain (3 - 5 Minutes)
If you're serious about your online store, the last thing you'll want to do is keep the basic Shopify domain name extension. It's worth taking the time to register a real domain name so you can truly build a brand around your online store. Registering a domain name takes just a few minutes, but finding the best domain name for your store can end up taking hours. If you already have an offline business, try using your offline store's name to keep your brand's reputation, but it might not be available. Try different variations until something is available and suits your online store to perfection.
There are a few things to keep in mind when picking a domain name. Keep it short and memorable so that users can easily type it into a browser's search bar. Try to avoid numbers or dashes if possible - it often confuses people (they don't always remember if the number is written as a word or simply the number, or if there are any additional characters in the domain name). Use a top-level domain (TLD) - ex: .com, .org, .net. Not only will using these tips make it easier for your visitors to remember your brand's name, but it will also be essential for proper search engine optimization (SEO) and marketing in the future.
Step 9: Extend The Functionality of Your Store by Adding Apps (10 - 30 Minutes)
While your website may seem good to go, there are numerous add-ons that can make your website much more functional. A Shopify site on its own is fine, but using additional apps will allow you to really make the most out of your online store. Shopify comes with basic integrations that allow you to sell products, but if you want to enjoy even more features, there is an entire Shopify marketplace dedicated to third-party integrations. Shopify's marketplace allows you to find thousands of app integrations including the ability to add support channels to your store such as live chat and email support. You can find apps for up-selling more products to existing customers, you can find apps for optimizing sales with abandoned carts and many other tools to help you get the most sales out of each customer. Additional tools are available such as SEO optimization tools and email marketing, which are ideal for helping you get more traffic.
The apps available at Shopify allow you to turn a basic Shopify website into a powerful online marketplace for selling your products. One thing to keep in mind is that some of these apps are free, while others may require you to pay a monthly subscription fee. You'll want to be cautious about adding too many apps, because it may seem like small monthly fees at first, but as you add more and more premium apps to your site, the total cost quickly adds up. If you can find a free option that does the same job, go for it.
Step 10: Get Your First Sale!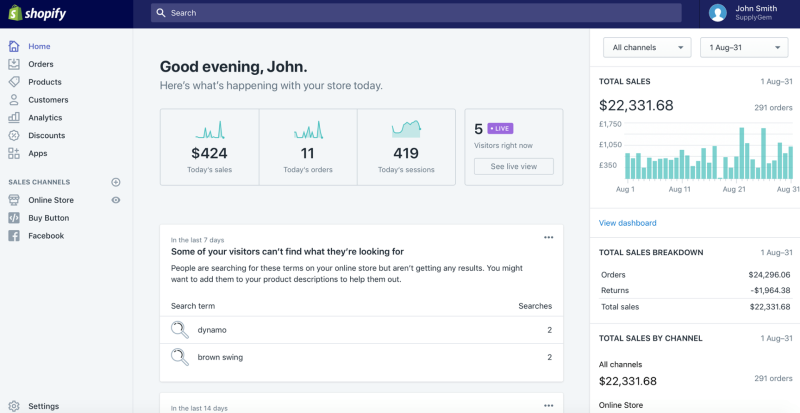 Okay, so you've just gone through most of the setup process for your Shopify store and now you've got collections, products, a navigation menu and third-party apps to top things off. The next step is definitely the most exciting of them all - getting your very first sale. Lets walk you through a few basic steps on how you can achieve this.
The most important thing in order to get a sale is to get targeted traffic. This means bringing people to your website that would have potential interest in the products you're selling. For instance, if you sell custom litter boxes, you'll want to get cat owners visiting your website.
In order to attract targeted visitors to your website, you'll want to market your website (without being overly promotional) on various online platforms. Start by joining related groups on Facebook, Twitter, Pinterest and other social networks. Establishing a presence on those groups and casually mentioning your store every once in while is a great way to build some brand reputation. Posting in forum boards, sites like Reddit and other engagement sites is a great way to enhance your brand's visibility.
You'll also want to create profiles for your store on various platforms such as LinkedIn, Google+, Yelp and anywhere you can list your business. The more exposure you can get, the more traffic you will gain. Remember, traffic equals sales.
Another route to take if you have a larger budget is to advertise on social networks such as Facebook and Instagram. These ads can be targeted to people who like specific things, such as cats. This allows you to displays ads for your online store to targeted visitors. While it's definitely not necessary, it can certainly be a great way to grow your business during the first few months. The most difficult part of launching an online store is getting your first traffic, and paid advertisements help speed the process up as long as they are used correctly. If you choose to use paid advertising, make sure to read up on the subject before spending any money in order to learn some ad techniques.
How to Open Your Shopify Store: The Setup Checklist
There are a few things to keep in mind before you move forward with the official opening of your Shopify store. First and foremost, you'll want to make sure that the legal aspects are in cue. This means having a proper terms & conditions page, filling out a fully completed privacy page, including a disclosure page that explains how you earn money and any other important page that is required for smooth business operations. For instance, as a store owner, you should include a "returns" page that explains how you handle returns and a "shipping" page, that details where you ship to and if any additional costs are involved.
Adding a payment gateway is also crucial before you launch your website - it will allow you to accept money. Making sure that everything is properly set up and fully functional before you launch is the best way to avoid missing out on sales. The last thing you want is to begin getting traffic before you can actually accept payments.
Support
Shopify is one of the leading eCommerce solutions on the internet. This allows them to provide you with amazing support. Whether you need assistance with certain features or even if you're unsure about how to setup certain design elements, Shopify can help you through every step of the process.
Their support channels also allow you to get fast assistance when dealing with payment processing issues and other such inconveniences. You can contact the Shopify support team via live chat, email or phone. With live chat, you should only have to wait a few minutes before getting connected with an agent, but this support channel is best suited for basic inquiries. Phone support provides nearly instant support and is the best way to handle more complex issues. Email support can take a few hours, so only use this support channel for non-pressing issues.
Tutorial
If you're in need of further assistance in order to set up your Shopify store, they provide an extensive tutorial section. These tutorials will allow you to learn all about the various features and functions available within their platform. We highly encourage beginners with little to no experience to check out these tutorials. It's a great starting area and will allow you to hit the ground running with your new online store.
Launching a Successful Store
Now you should be able to get around with your online store. We've explained most of the basic steps in order to get by and if you're still in need of assistance, Shopify offers excellent tutorials and support channels. You shouldn't have too much trouble getting by. However, we also encourage you to take a look at our other reviews, how-to's and useful articles so you can learn as much as possible about online stores and eCommerce solutions. With our team by your side, you'll always have all the information you need in order to succeed with your online business. Now go ahead and get started with the most exciting journey of your life - becoming your own boss!